Famous Four FREE Email Marketing Tools for 2020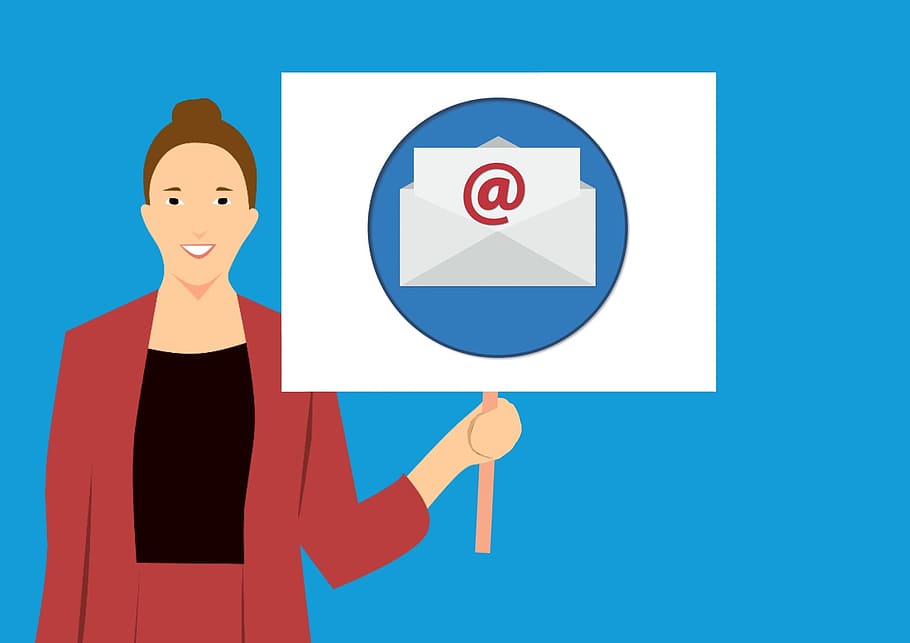 Emails are the most preferred, direct and easiest means of communication. Half of the world's population uses emails. Consequently, "Email Marketing" becomes one of the most powerful digital marketing channels to connect with the target audience. Email marketing is used for promoting products and services, updating customers with important information and building a strong brand. It is also used for increasing sales and business as the conversion rates are comparatively higher.
Email is a very personal digital asset. As per studies, 70% of Gen Z prefers to use direct and personal conversations over all other means of communication. With various tools and coding, you are able to send personalized and customized campaigns to each subscriber in your list. For example – monthly balance statement from a particular bank – the same campaign will be sent to all subscribers however, the name, account number and balance will be different.
There are various email marketing tools/ platforms to help you with your emailers or EDMs what some refer to. However, which tool is most suitable is always a question. The answer is "it depends" – depends on how much you can spend, what kind of features you want, how big is your subscriber list, what kind of content do you plan to promote.
For starters, here are the FAMOUR FOUR FREE tools for small-medium businesses:
Sendpulse is a multi-channel marketing platform that offers multiple channels of communication in the form of emails, push notifications, SMS, Viber, Facebook messenger. Their email marketing feature is one of the most popular tools. It provides infinite email designing templates that can be easily customized with the help of a drag and drop editor. You can send these customized emails automatically at the right time based on your behaviour and other variables.
Sendpulse subscriber rating feature is an incredible way to analyze and identify your valuable subscribers. It helps in analyzing the open click rates and also read and unread rate of every subscriber.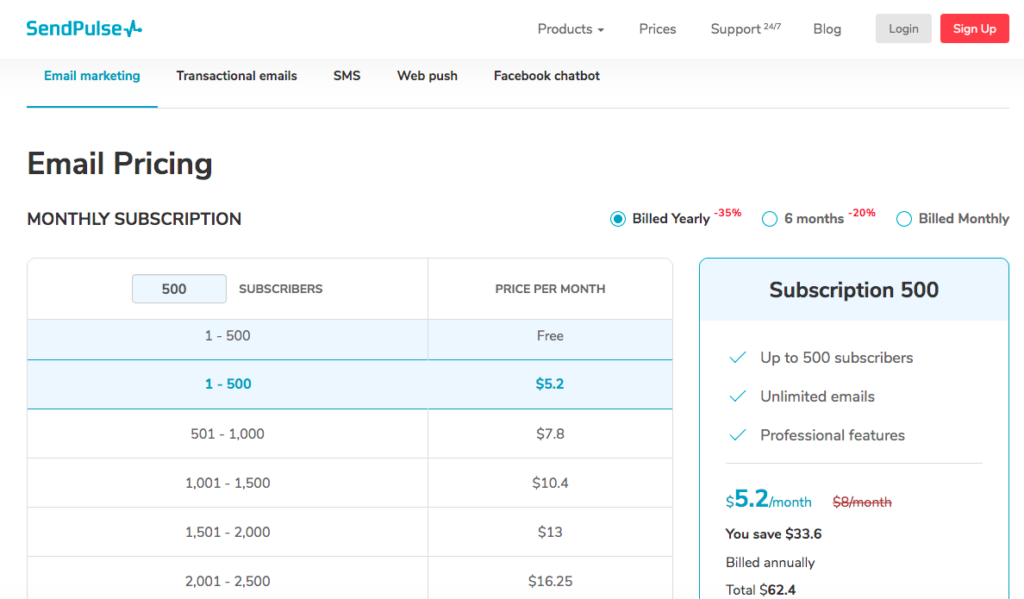 What is included in the free plan:
500 subscribers and
15000 email per month
Web push notifications
Mailchimp is one of the most comprehensive email marketing platforms for small businesses with the best deliverability rates in the market. Their free plan provides basic marketing features in 7 marketing channels and allows to use custom domain. It has smart recommendation features that provide you with valuable audience insights to optimize your marketing efforts.
Designing emails in Mailchimp is quite easy using the content manager which lets you store images and files for reuse. Mailchimp also provides single step automation (for the welcome email, birthday campaigns, etc.) in its free plan. However, it has limited templates in the free version.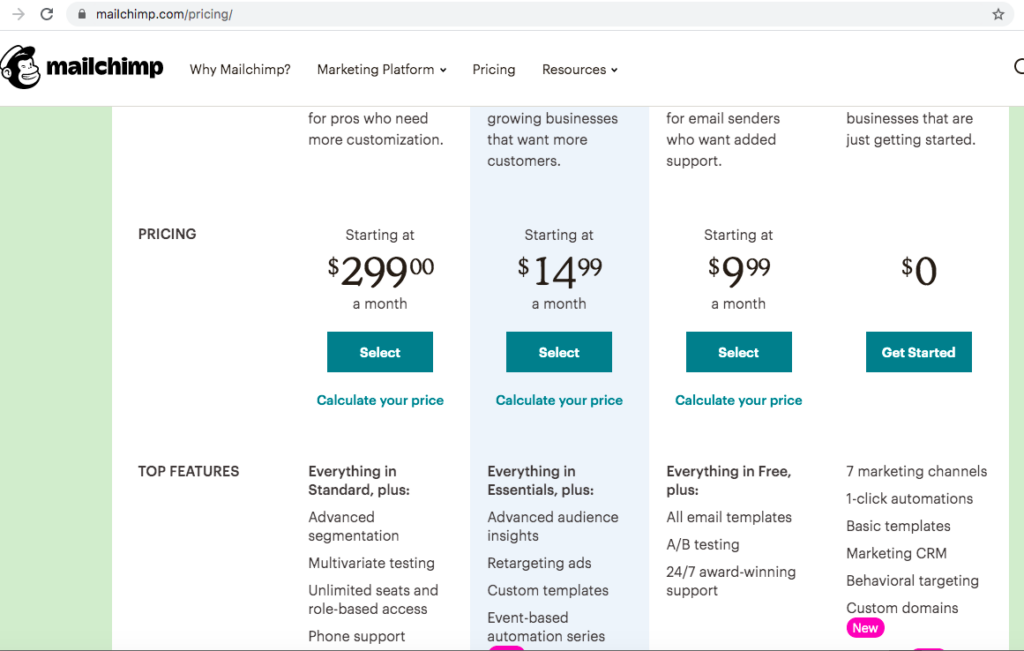 What is included in the free plan:
2000 subscribers
10000 emails per month
Mainly known for its SaaS application and cloud software suite. Zoho is one of the most commonly used marketing software for small-medium businesses. Amongst all the tools that Zoho provides, email platform is one of the easiest to use. You can choose from a series of pre-designed templates and customize them as per your needs.
Zoho Campaigns helps in creating and segmenting your mailing lists to deliver relevant content to every recipient. It allows you to prepare your emails and schedule them to be sent on a particular day and time which helps you get ahead of marketing. With its testing and reporting features, it helps you compare with different campaigns and come up with effective emails that deliver great results.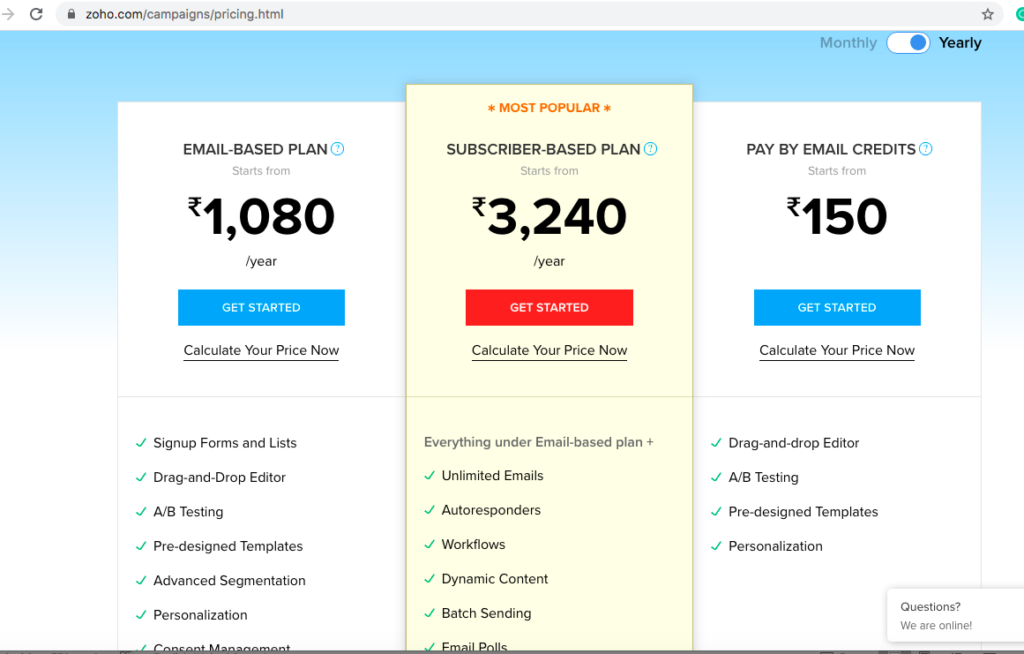 What is included in the free plan:
2000 subscribers
12000 emails per month
Mailjet is easy to use email solution that comes with collaborative tools to help you build email marketing campaigns and SMS. It allows you to add dynamic content so that you can create a personalized email for each of the recipients. Mailjet helps you work on your personalized email as a team in real-time that allows for seamless collaboration. Via its intuitive multi-user, drag-and-drop interface, teams can create impactful email templates together.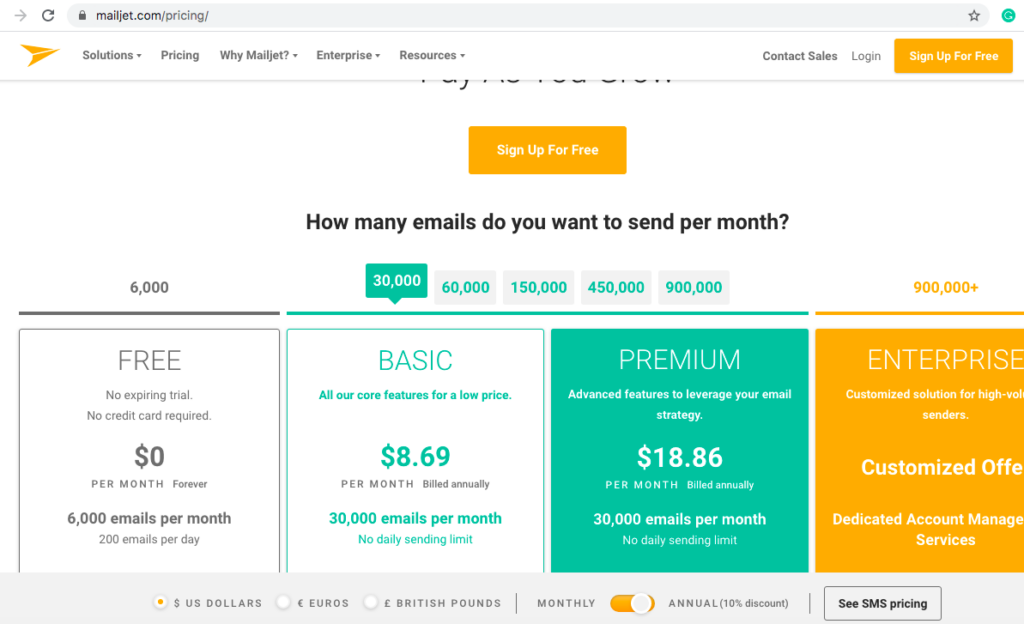 What is included in the free plan:
Unlimited subscribers
6000 emails per month
The idea of this article is to present the well-known free tools (email marketing platforms) in the market. If you are a beginner hope this article gives you a basic idea to get started. Once you try your hands with the above tools, you can then make a decision on which tool is most suitable for your business needs. You can upgrade to other features for expanding your marketing efforts.
Author: Shweta Baid and Shraddha Jain