Is your Business on LinkedIn?
With over 660+ million users currently, LinkedIn is about building connections and networks. It has the ability to tap into the existing connections and grow your business through word of mouth. It is one of the top-rated social networks for lead generation.
When we talk about social media, the first thing that strikes is Facebook. Although Facebook marketing is most powerful when we want to connect to masses, LinkedIn cannot be missed. LinkedIn is an online social platform for professional networking. It helps people in establishing themselves stronger professionally. As we know on LinkedIn – People look for career opportunities, professional connect, business leads, industry discussions, and staying up-to-date on trending topics and also leverage it for personal branding.
Have you ever thought of how to leverage such a strong network of professionals for your company or corporate brand? From creating brand awareness to establishing partnerships and also retaining your employees, LinkedIn adds an invaluable benefit to your business.
Top 5 reasons for your business to be on LinkedIn
(1) Increase reach and create a strong brand presence
Unlike your personal LinkedIn profile, your company page is visible publicly by default. Whenever you post content on your LinkedIn page, if the users like or comment on your post, it is then shared in the news feed of the users' connections as well. This helps in engaging your content and increasing your firms' reach on the web. Current Employees and job posting all help in brand value creation and building persona of your company.
(2) Introduction to new products and services
With the help of the LinkedIn company page, you can introduce new products and services, in highly engaging content and also get necessary feedback from your customers. You can also provide links to your website to enable users on more information and convert the traffic into business leads.
(3) LinkedIn Promotions for the target audience
One of the challenges faced while posting updates on social media is that unless you don't post frequently, your most important posts are lost in the vertical timelines of the members. This doesn't happen with the LinkedIn company page as you can just pin it to the top of your page's news feed, and this will remain until you unpin. You can also leverage LinkedIn advertising for promotions.
(4) Improve ranking in your search engines
Google and other search engines have ranked LinkedIn company page and posts highly in the search engine pages, adding updates to your company page post for SEO helps improve performance in your search results. This increases traffic on your website and improves ranking.
(5) Measure the effectiveness of your update
Whenever you share your post on the LinkedIn page, it provides you with analytics, and other statistics and also update you on the number of clicks your post has generated, the number of interactions received, etc. This helps in analyzing your post.
How to create a LinkedIn Company page:
Step 1: Head to Marketing Solutions portal and click on "Create your page"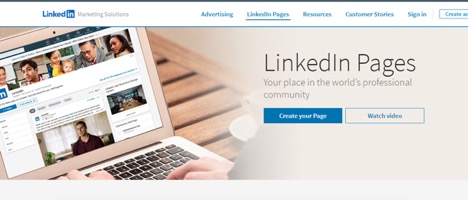 Step 2: Enter your official company name and also choose the URL which the users will use to find your business and other necessary details.
Verify the details and click on "Create Page"
Step 3: Add a cover image and logo: Add a cover image to capture the feel of your business. The image should be as per the specific pixels mentioned while uploading it on the page. Your company logo will take the place of your business profile picture
Step 4: Create a company description: LinkedIn company page provides a 2000-character limit to describe your company. Make sure to craft your message wisely to give users the information regarding your company.
Step 5: Publish your page: Once you have completed the above steps click on "Publish Page" and your company will go live. You can also add team members who can administer your page.
How to invite people to follow your linked Page?
Once the page is published the next step would be increasing your followers and letting the users know about your LinkedIn page. To send an invitation to your connections:
Sign in to your admin centre
Click Admin tools and choose "Invite connections" from the dropdown list
Choose the connections that you want to invite to follow your page and send an invite.
Build your brand and create more business opportunities through the LinkedIn company page.
Create and publish rich content and become a leader in your industry through LinkedIn company page.
Author: Shraddha Jain