Tools for Social Media management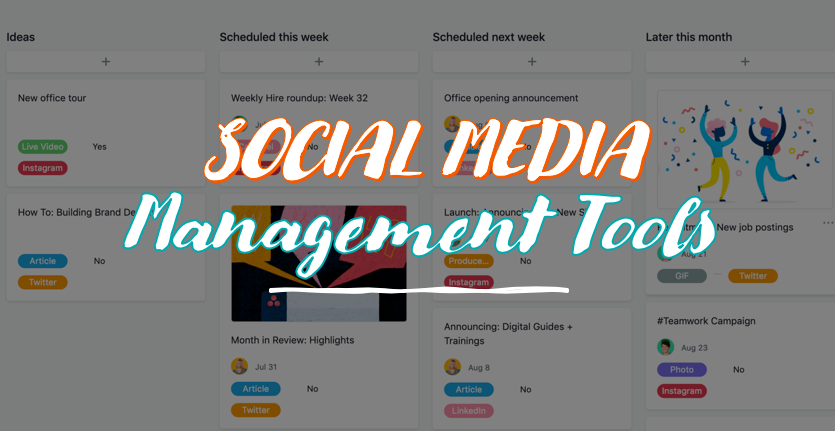 Social media management tools have gained popularity as social media marketing is growing rapidly. Marketers are always in the hunt for easy ways to maintain all social networking sites. A social media management tool allows you to consolidate your business accounts into one tool and streamline your social engagement. It saves time and increases ROI.
Each business requirement is different – some are looking for a posting every day on all platforms while others look at great analytics to keep a track of all the data and conversations. Some might look at notification feature so that important messages from clients are not missed.
Either way, a social media marketer is always looking for a cost-effective, easy and uncomplicated tool to manage all business pages/ accounts.
Three best-known social media management tools:
Hootsuite is a social media management platform that is compatible with over 35 social media networks. It includes Facebook, Twitter, Instagram, YouTube, and Pinterest. With its auto-schedule feature, you can schedule your updates at optimal engagement times.
Hootsuite strongest area is analytics. The tool helps in understanding social results by drawing more than 200 metrics to measure performance. Hootsuite also has customizable feeds which let you watch the social web for any mentions, followers, hashtags, engagement, and more. You can also assign access to your team members without handing out passwords.
One of the most attractive things is the free stock photos and gifs that help quick content creation. It's an all in one platform and best known so far!
What is included in the free plan:
Three social accounts
1 user
30 scheduled posts
Crowdfire is another popular social management tool that works with Facebook, Twitter, Instagram, Pinterest, YouTube, LinkedIn and many more.
It helps in scheduling posts and has excellent Twitter management features. It allows you to keep a track of users monitoring your brand on Facebook and Twitter. Crowdwfire has a range of features such as article and image recommendations in the apps. You can also automate uploading posts in bulk and schedule your social medial accounts.
Crowdfire stands out from other social media management tools as it helps you connect your blogs, YouTube channels and create social media posts for every update that you have on your sites.
What is included in the free plan:
10 schedule posts
Image and article curation
Tailwind is a social media management tool for Pinterest and Instagram. Its excels in Pinterest like no other social media management tool. It is also useful for Instagram to provide complete management of a brand on the visual side of the web.
Tailwind provides a set of tools for scheduling posts and monitoring the performance. You can upload bulk images and set up a collection of pins that will be scheduled automatically to post on your Pinterest.
The smart scheduling feature helps in identifying the best time to post your update and receive maximum engagement. It even suggests trending content to you with recommended sources. Tailwind has a set of features especially for Pinterest, which includes pixel matching technology, image recognition, and analytics reports. It is a great social media management tool as it provides incredible features that are specific to these platforms such as Pinterest content promotion and Instagram UGC management.
What is included in the free plan:
Scheduling up to 100 pins on Pinterest
30 posts on Instagram
We shared the most famous email marketing tool in our previous post. Hope you got a hang of it. Try your hands on some of the most popular social media tools recommended in this article and save time to create more impactful content.
So why wait, get started today! Tools greatly help in content planning and scheduling. It saves a lot of time, gets followings and grows organic traffic in the most competitive web world. Let us know which tool you prefer and why!
Author: Shweta Baid and Shraddha Jain