HOW TO GET STARTED WITH YOUR DIGITAL MARKETING CAREER?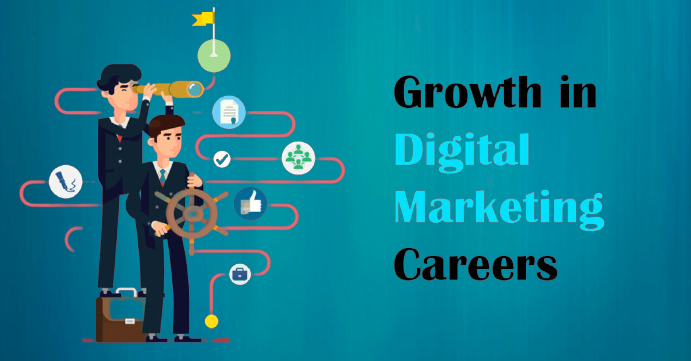 Introduction
Linkedin lists "Digital Marketer" among the top 10 most in-demand jobs. Graphics designer, customer service specialist, data analyst are other profiles in the list that are somewhat related to "Digital Marketing." The demand for digital marketing professionals is at its peak as more than 95% of the companies have adopted digital strategies. Since every organization big or small plans to increase its online presence, the job opportunities are also growing. Therefore "How to get started with your digital marketing career" is a standard question for every newbie.
These days, small business owners have started their businesses on apps like WhatsApp, Facebook and Instagram, while larger companies set up have webshops and mobile applications. You can get everything- from vegetables to jewellery to clothing to furniture with just one click. The role of digital marketers is to make this interaction easy, more engaging and resulting in business. It is a field that belongs to everyone. Whether you are a graphics designer or a writer or a youtuber or creative thinker you can pursue your career in this field.
Digital marketing is not limited to a sector or domain, thus opening a plethora of online marketing jobs among others. You do not have location constraints. There are a variety of roles in the field, and believe me, one cannot be an expert in all. You need to master particular skills for each of the digital channels (social, web, search, email etc.)to see the success.

Top 5 Skills required for a digital marketing career
1. Be a good researcher
With technology getting advanced day by day, all the information and tools you need are at your fingertips. Before entering this, you need to know how to research, collection of data, and understand what is relevant and what is not with basic analytical skills. You need to understand your target audience and which marketing tools work best for them. Research can be through online transactions, different search engines, content already available, different search queries, and other online information relevant to your business and businesses on similar lines.
2. Communication skills
Every person is unique, and every business is also different. But, when you know how to communicate well with different people, it's easier to work out a good deal with them. There is hardly any chance to explain the customer on a one-on-one basis, especially when it's a mass campaign. Communication here is also with your target audience using relevant messages and convincing them to take your desired action. Choosing the right words at the right time for customers and clients through the right channel is very important. Good communication helps to keep teams closely knit and working towards the same goal. It enables customers to understand how products and services work.
3. Quick learners and being imprompt
Skills can be learned. It's all about dedicating time and energy to learning the tools. But like not everything can be taught, you need to be quick in understanding and learning what is needed. Start asking yourself if you were a customer what would you want? How would you want to be marketed? And acting accordingly is what will make it work the best.
4. Being creative and thinking out of the box
Everyone wants something new and something different. Therefore, a fresh new idea is a key to success in digital marketing. Doing things differently is essential to remaining competitive. Thinking out of the box helps in solving problems and removes the limitations. It helps you understand your customer's points of view and helps them justify hiring you.
5. Being Analytical
Collection of data is one part of the job but using that data in the right way matters. One should know what to do with the data and how to use that data to improve the efficiency of the business. To help develop your analytical mindset, you need practice. And lots of hard work and patience.
Types of Job Role:
The digital marketing industry incorporates marketing, advertising, creative and problem-solving skills. Understanding the target audience is more important than marketing for the masses. Hence, the channel of marketing also plays a vital role. But like said, not everyone can be a master of all, it's a team game.
Before starting any marketing campaign, planning is the most important aspect. Digital Marketing Specialist plans the strategy, the budget, marketing campaigns, and the KPI (key performance indicators) to ensure the growth of the company's online presence.
Website Designers and SEO Specialist
Website is the first owned real estate of any business in the digital world. We have website designers, who design web pages and update them continuously using different tools. Websites have to be user-friendly and attractive and lead to business development. When a prospective customer wants a particular product or service and your designed business or personal website to come on the top of a search engine, comes in the job of SEO.
The primary role of an SEO specialist is to rank a website page on the search engine result page and to increase the website's traffic. It is a never-ending process as getting online traffic from free, organic, editorial and natural search results on the search engines is a challenging job. Analytics plays a vital role in measuring the performance of all your marketing efforts. Since Google Analytics is one of the most popular and integrated tools, the roles are normally called GA specialist or digital marketing analyst.
While SEO work is for the website ranking on the search engine, you also have the option to pay to the search engine and appear on the first page of the search. Furthermore, the marketers who specialize in search engine marketing are known as Pay-per-click specialists or SEM specialists, or Google Ads specialists.
Social Media Marketers
Social presence and community management is another important aspect of digital marketing. We have social media marketers who create interesting and engaging content for brand awareness and building brand visibility. Listening to the customer queries, and connecting with them socially are vital in building loyal customers. Every social media platform requires a different type of content based on the target audience and its demographics. Surely a social media marketing expert combines marketing and social media management to enhance the company's social media presence.
Email Marketers
Emails are the most preferred medium of communication with customers, prospects and partners. Email marketers create email campaigns to promote products or services, ensure messages are sent in proper form and template, create the database of emails for lead generation and track and analyze direct and interactive marketing campaigns.
For any marketing content plays an important role, content writers write content for the website, email, social media pages, blogs that are relevant and interesting, ultimately attracting more traffic and causing web visitors to take action.
In nutshell
If you really want to make your career in digital marketing, understand the subject, understand your area of interest, pick one field and master that. Knowledge of other fields in digital marketing will provide you an edge to step up in your digital marketing career. Good and clear communication, a bit of tech-savviness and a bit of crazy creativity can make you go viral! So get ready for your digital marketing journey!
Author – Smruti Kulkarni, HR Consultant, Shail Digital.