Impact of Apple's iOS 15 On Email Marketing
Click and Open Rate are two important metrics for measuring email success for an email marketer. This time Apple has announced its update on iPhone which will affect the method by which email marketers use the open rate metric. This iOS 15 Update will impact email marketing.
WHAT IS THIS NEW PRIVACY UPDATE?
"Privacy has been central to our work at Apple from the very beginning," says Craig Federighi, Apple's senior vice president of Software Engineering.
The Mail Privacy Protection feature prevents senders from collecting information about the user through invisible pixels. The new feature hides users' IP addresses. So they can't be linked to other online activities or used to determine their location. After updating your iPhone to IoS 15, you will see a screen that invites you to opt-in.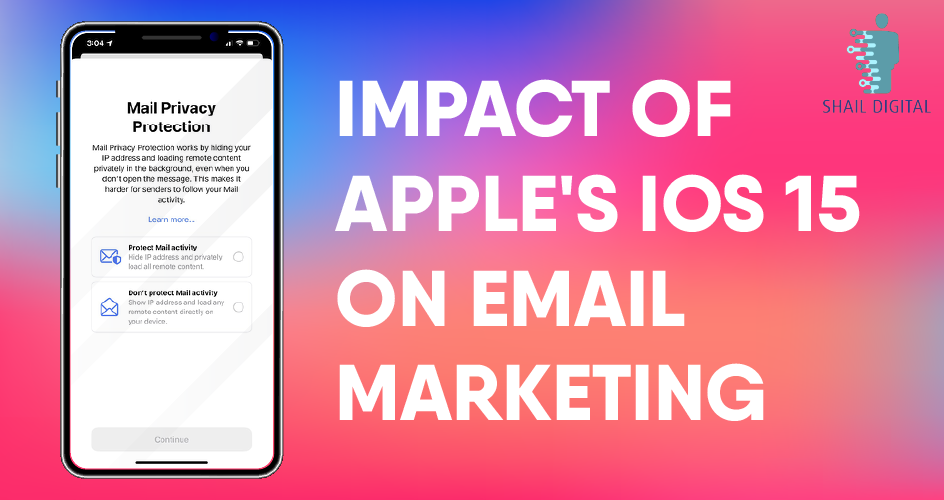 WHAT ARE INVISIBLE PIXELS?
Assume that most Apple Mail users opt-in. As an email marketer or interested SME business Owner, how would it affect you?? Here's an overview for those who aren't obsessed with emails. Long ago, email marketers began including invisible pixels in the emails they sent you; when you open their messages, those pixels load, informing the sender that you read their message, and your IP address may also infer your location. Open rate is the percentage of people who actually open emails. It is one of the most important metrics that senders used to determine the effectiveness of their efforts. It gives you an idea of how engaged your audience is and how that engagement is changing over time.
The tracker's email open data is then used, primarily by marketers, to better improve email campaigns and other marketing initiatives based on the engagement data gained from the emails. Some browser extensions currently disable these invisible trackers, but with Apple's help, this activity in the Mail App will be more difficult to follow.
HOW DOES IT EFFECTS EMAIL MARKETING?
More than 45% of Apple users use the mail app. While Apple has said little about its Mail Privacy feature, marketing experts say it could effect open rate tracking and email-based A/B testing. Losing open rates, behavior, and location data will have a significant impact on how email marketers engage and interact with a big chunk of their lists.
It will have a significant impact on:
Increasing deliverability by deleting inactive contacts
Split testing email campaigns
Personalization in real-time
Campaigns for re-engagement
Obeying privacy by identifying and erasing uninvolved contacts
Using an automated nurture flow to send out triggered a series of emails
Increasing open rates by optimizing send time
How Email Marketers Can Handle the New Privacy Protections
Consider lowering your open-rate targets
Although open rates are unlikely to trend down anytime soon, a significant portion of email audiences may become undetectable. As a result, you may need to reduce or shift your open rate targets in order to determine your new low, average, and high open rates.
Utilize data from other email marketing KPI 
While open rate is a key email marketing KPI for many businesses, it is far from the only data you can use to determine the success of your email content. Even if open rates are impacted, you can focus on these points:
Visits to your website
Rates of clicks and click-throughs
Rates of unsubscription
Click maps
Besides leveraging KPIs that are less affected by Apple's change, you can use email tools or benchmark reports to see how your email rates compare to other brands in your industry.
Persona research via survey or email
Keep in mind that this change will not affect all email subscribers
Although Apple Mail and Apple mobile devices account for more than 35% of the global email provider market share. Google, Outlook, and other email providers have not announced similar privacy moves. This means their open and IP data could still provide valuable tracking information for email marketers.
Lastly, Continue to monitor Apple's updates
Despite the fact that iOS 15 has been announced. We still know little about how it will impact email and IP address tracking. For example, while it appears that this feature will necessitate an opt-in, Apple has not explicitly stated that.
Adapting Your Content for a More Personal Domain
Apple's update isn't the only privacy pivot affecting digital marketers, and it won't be the last in 2021.
Although the world is changing in ways that present some challenges for digital and email marketers. But that doesn't mean you can't keep innovating your strategy to meet prospects or audiences where they are. 
While open rates are valuable, there are numerous other ways to get to know your email subscribers, understand KPIs, and continue to create excellent content for them. As a marketer, you can keep experimenting and create your own methods of measuring your success.
Author: Vaishnavi Sharma