Top 7 Email Marketing Tools in 2022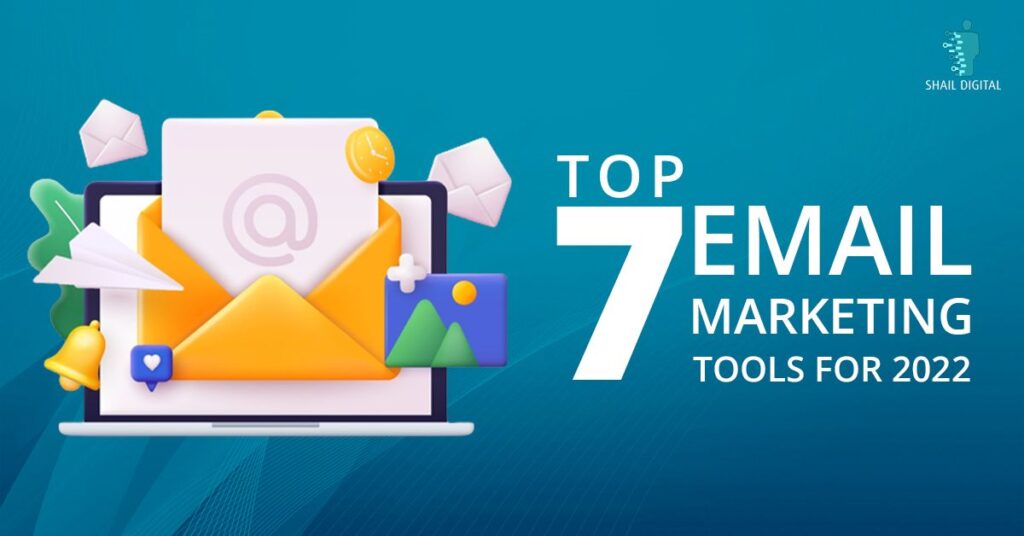 In today's ever-changing world of email marketing tools, it is essential to be aware of all the digital marketing channels available in the industry. With four billion email users worldwide, email has become the most effective marketing channel for business content distribution.
As a result, most organizations leverage their mobile-friendly emails as part of their marketing strategy. And more importantly, email campaigns offer higher conversion rates than any other digital channel and budget-wise support for small and medium-sized businesses to stay connected with their customers effectively. Here are seven email marketing tools you need to consider for 2022.
Comparison Table for 7 Email Marketing Tools
| | | | |
| --- | --- | --- | --- |
| Tools | Price/Month | Free Plan/Trial | Unique Feature |
| Zoho Campaign | $1.08 | Yes (14 days free trial for 200 emails/day) | Behaviour centric emails |
| MailChimp | $9.99 | Yes (200 emails/day) | Multi-step automated workflows |
| Constant Contact | $10 | Yes (60-day free Trial for 100 emails/day) | Event Invitation Management |
| Mailjet | $15 | Yes (200 emails/day) | SMTP relay |
| Get response | $17 | Yes (300 emails/day) | CRM Features |
| Sendinblue | $18.99 | Yes (300 emails/day) | SMS Marketing Options |
| HubSpot | $50 | Yes (14 days free trial for 500 emails/day) | Personalized Sales Experience |
1. Zoho Campaigns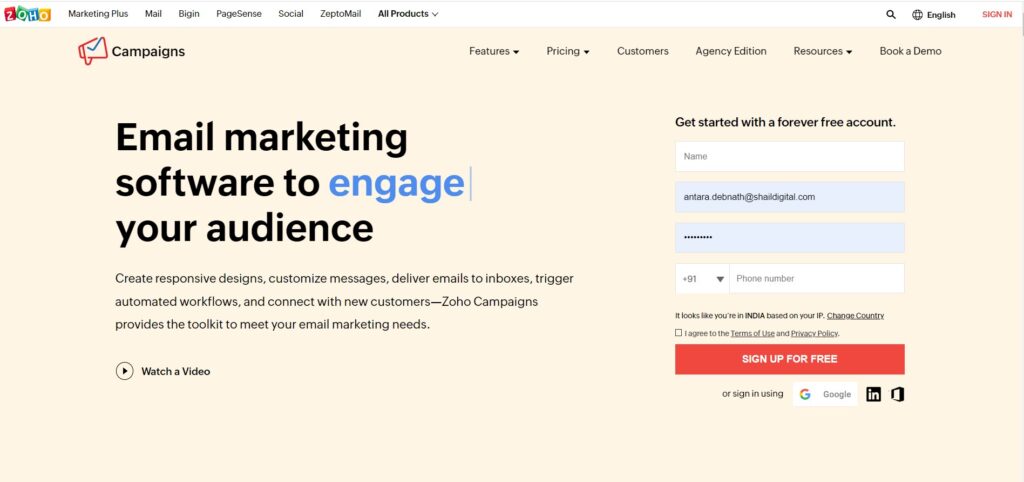 Pricing starts at: Paid plan starts at about $1.08 /month, 14-day free trial.
Unique feature: Behaviour-centric emails
Zoho Campaigns is a comprehensive email marketing platform that combines email creation, scheduling, tracking, reporting, and delivery. Users can import contacts from Facebook, LinkedIn, Twitter, and Gmail and organize them into lists. Once ready, users can send customized emails to targeted groups of contacts. Managing the email database of your leads and contacts and sending marketing emails to them are its primary functions.
Its standard feature is that users can update contact records directly from within Zoho CRM. As part of its social and email marketing capabilities, this CRM software can help you inform your customers about new products and company updates. Email campaigns can be scheduled according to your audience's time zone.
Additionally, you can include a popup form that encourages visitors to become email subscribers.
With our services, you can avail to run end-to-end marketing campaigns in ZOHO.
2. MailChimp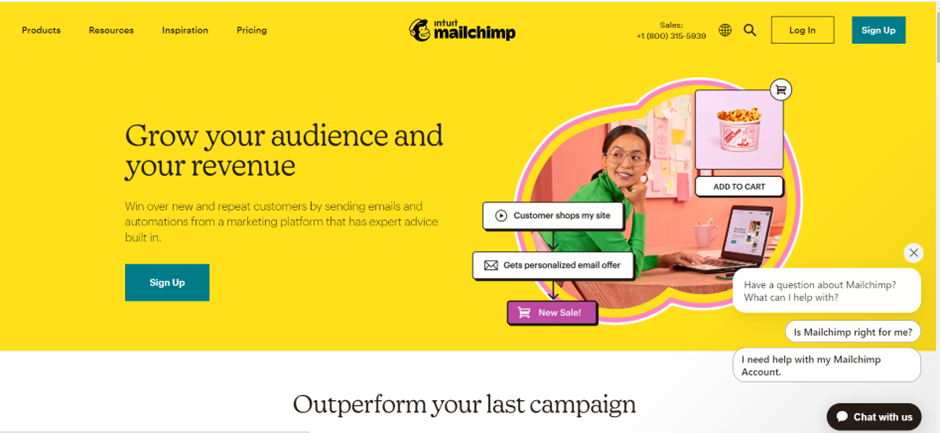 Pricing starts at $9.99 /month, free Plan
Unique Features: Multi-step automated workflows
MailChimp is one of the best choices if you want to advance your business with a simple way to send emails to your leads. It allows businesses to schedule email campaigns, design professional emails, landing pages, newsletters, dynamic content, and more. In addition to tracking open rates and clickthroughs, MailChimp also provides audience analytics. Furthermore, MailChimp offers a variety of pre-made templates and campaigns.
MailChimp makes it easy to personalize content and build customized user journeys with conditional logic for multistep automation. Once you upgrade to your paid plan for the first time, you'll get access to advanced features like predictive analysis, A/B testing & multi-variant testing to make campaigns more effective.
Email Marketing campaigns are all about converting leads into customers. Shail Digital helps you to get started with effective and efficient campaigns as we're an official MailChimp Partner. MailChimp helps you keep track of these customers and automate the communication process.
3. Constant Contact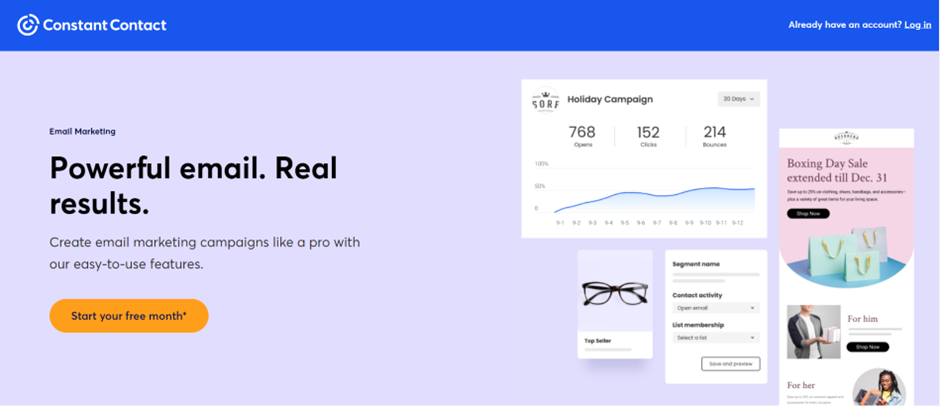 Pricing starts at $10/month, 60-day free trial
Unique feature: Event invitations management
Constant Contact is another widely used email marketing service provider. With its intuitive user interface, Constant Contact allows users to create engaging emails, landing pages, and forms. Constant Contact offers powerful automation tools such as autoresponders and drip campaigns.
You can easily build a brand with Constant Contact's email management tools. Grow your business with an e-commerce website, generate social ad campaigns, and create professional marketing campaigns with simple drag-and-drop editor tools. It is easy to rest assured that you will get results with your brand when you have a deliverability rate of 97 per cent.
Additional Constant Contact features include:
Engage your audience with interactive email campaigns.
Build your contact list with custom forms.
Detailed campaign reporting to help you reach your business goals.
4. Mailjet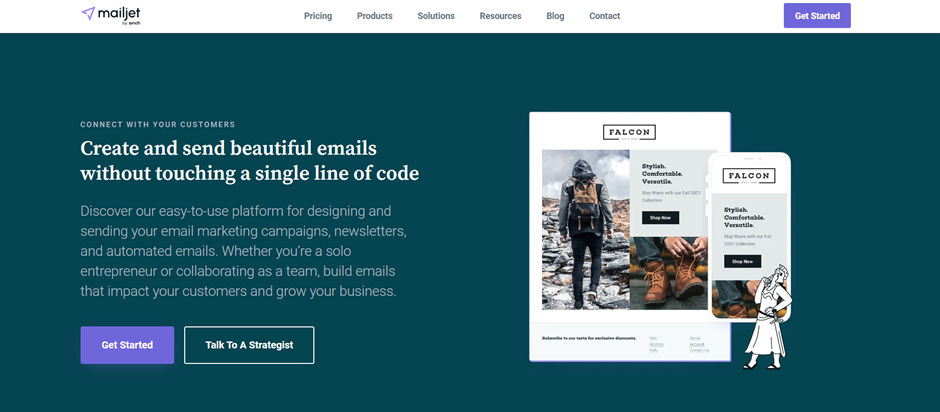 Pricing starts at $15/month, with a free plan
Unique Features: SMTP relay
Mailjet is a user-friendly email solution with collaborative tools to help you build transactional email marketing campaigns or SMS. It allows you to add dynamic content so that you can create a personalized email for each of the recipients.
With its free trial plan, businesses can send 300 emails daily to their unlimited contacts, APIs, SPIs, and the advanced email editor. You can also choose between essential, premium, and custom paid plans that support online customers, remove the Mailjet logo from customized emails, segment marketing, and more advanced customization features.
Mailjet helps you work on your personalized email as a team in real time, allowing seamless collaboration.
Teams can create impactful email templates through its intuitive multi-user, drag-and-drop interface.
5. GetResponse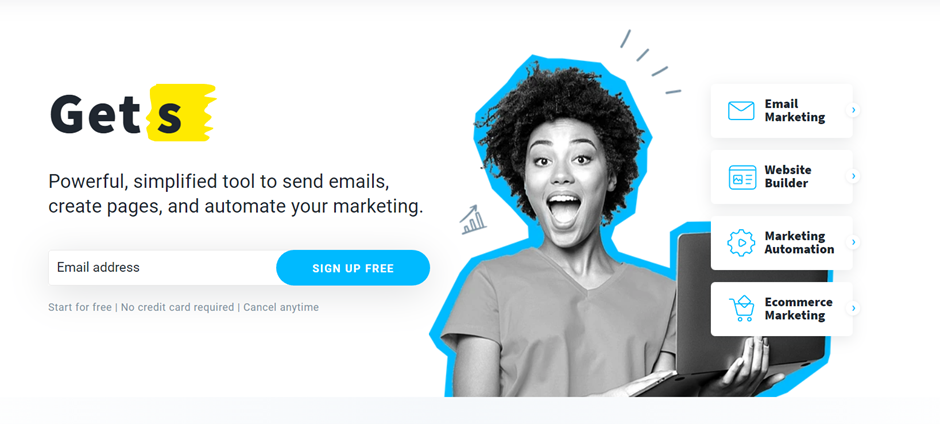 Pricing starts at: Paid plans start at about $17/month, Free plan
Unique feature: CRM features
GetResponse tool is a user-friendly email marketing and marketing automation software. Email marketing messages can be easily designed and sent with the GetResponse tool. You can create high-converting newsletters, autoresponders, automated funnels, and more. It offers a variety of templates for email campaigns, landing pages, funnels, and forms.
GetResponse lets you create a complete sign-up and a sales funnel, which lets you sell more and grow your email list.
Split testing consists of sending several versions of a message to subscribers. By running A/B testing, you can determine which variants work best for your business. Up to five subject headers and content variations are allowed with GetResponse. Split testing with GetResponse is faster, more convenient, and lets you see which variants perform better than others.
6. Sendinblue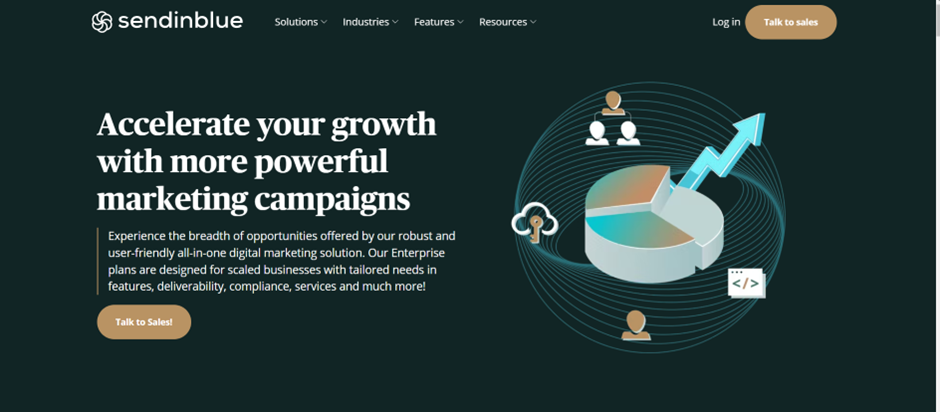 Pricing starts at $18.99/month
Unique Features: SMS Marketing feature
Sendinblue allows you to send emails and texts to subscribers using marketing automation. Its free plan allows you to send 300 emails daily to your unlimited contacts.
Using SendinBlue, users can send personalized emails based on specific criteria. For example, contacts can be segmented based on location, gender, interests, and more. In addition to subject lines, images, and text content, users' connections can be segmented for email marketing blasts.
It provides all the contact management features, including real-time reporting, text messaging, email templates and design, personalization options, API functionality, page tracking, and marketing automation workflows.
Aside from providing campaign management features and advertising tools, Sendinblue offers Enterprise clients a robust and customized platform to meet their specific needs. Multi-account management, Single Sign-On, advanced integrations with other platforms such as Salesforce, metered billing, flexible account management, and access to a sandbox are all exclusive features of the Enterprise plan.
With its powerful features and easy-to-use interface, SendinBlue is an excellent choice for any business looking to boost its online presence through effective email marketing campaigns.
7. HubSpot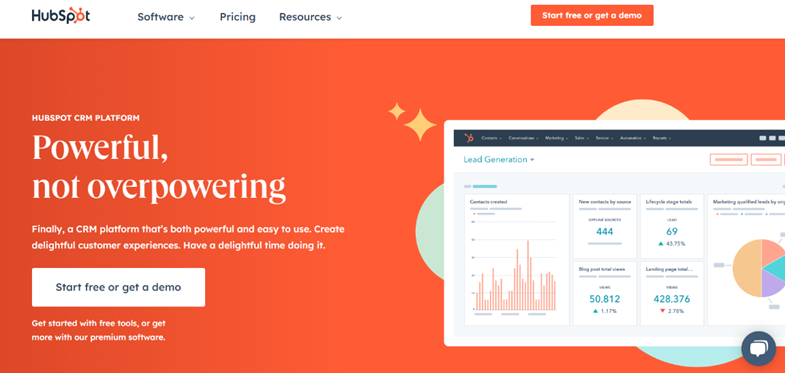 Pricing starts at $50/month, with 14 days of a free trial.
Unique Features: Personalised Sales Experience, CRM platform
HubSpot is an all-in-one, easy-to-use, best-marketing suite that helps businesses create, manage, and optimize online campaigns. With HubSpot's email automation tools, you can send personalized messages based on the segmented contact list. You can also track how the people respond to your emails so you know if you should keep sending them.
HubSpot delivers everything scaling companies need to deliver a best-in-class customer experience into one platform. It provides teams with tools that are powerful alone but even better when used together as part of our crafted, not cobbled, solution.
HubSpot is a leading CRM service that includes email marketing and other operational services as well. They offer ticketing and customer service features. It supports its users with several marketing tools, such as landing pages, social networking, live chat, video creation, SEO, and content creation.
HubSpot covers all aspects of digital marketing and caters to business owners who want to grow their companies through online channels. It also focuses on other operational CRM features like email tracking, meeting scheduling, CRMs, predictive lead scoring, automated emails, email sequences, and reports making it an all-in-one marketing solution.
Whether you are starting up with inbound marketing communication or migrating from another platform. Shail Digital caters to the need of your end-to-end HubSpot Marketing Services.
In a nutshell
77% of marketers have seen an increase in email engagement over the last 12 months. Email marketing is still a powerful way to reach customers and prospects. The right tool can make all the difference in your success. Using a drag-and-drop editor enables you to easily create e-commerce websites, social ad campaigns, and marketing campaigns. You can achieve your email marketing strategies and goals by selecting the right tool.
Using email as a powerful digital marketing channel has proven to be the most effective way to increase customer engagement. Get in touch with us at [email protected]. We are happy to assist!
---
Find out more about Email Marketing :
Famous Four FREE Email Marketing Tools for 2020
2020: Check Out Gmail Features